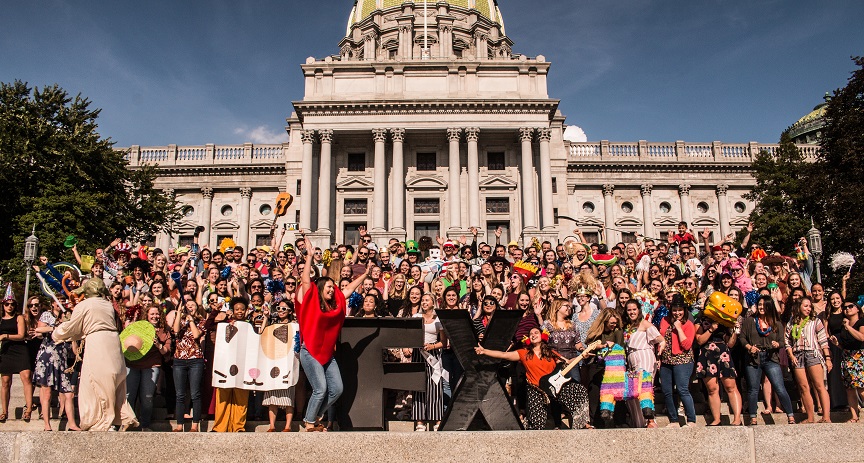 Amazon SEO Services for Product Listing Optimization
WebFX is a leading Amazon SEO company, offering performance-driven Amazon SEO services that include the industry's most advanced software and most innovative product listing optimization strategies to increase your sales, online visibility, and market dominance.
Explore Amazon SEO Service Plans
Up to 15 child ASINs optimized

1 content asset / quarter

Ongoing product page optimization

Monthly pricing monitoring
Up to 30 child ASINs optimized

3 content assets / quarter

In-stock rate monitoring

Ongoing video and image additions
Up to 50 child ASINs optimized

4 content assets / quarter

Amazon inventory planning monitoring

Quarterly competitor analysis
Reach half of the world's shoppers with Amazon SEO services
Around 50% of shoppers turn to Amazon when they're searching for a new product to buy, which is why the world's biggest ecommerce platform is responsible for more than 40 percent of online sales.
With our performance-driven Amazon SEO services, we help your business — and your products — become the choice of shoppers worldwide. That results in more sales, revenue, and growth for your company, providing you the chance to do more with your business.
Ready to see what our Amazon listing optimization services can do for your business? Give us a ring at 888-601-5359 to chat with one of our award-winning Amazon SEO consultants. Or, contact us online and tell us about your business and products!
"WebFX has been, far and away, the best experience I've ever had with SEO. Their staff is attentive, knowledgeable and really stay on top of an ever-changing landscape. I couldn't be more pleased with my experience."
Founder
FOOTWEAR COMPANY
WebFX Amazon SEO Service Pricing
With extremely competitive search results on Amazon and the continued dominance of Amazon listings in regular search results, it's becoming essential for companies to invest in the expertise of an Amazon SEO company. At WebFX, we offer specialized Amazon SEO services that help your business not only maintain your sales numbers but grow them, which means you're moving more inventory on a regular basis.
Learn more about how we can move your products off the shelves by viewing our Amazon SEO and Amazon SEO copywriting packages.
Customize your Amazon optimization services with our product copywriting services. Whether you're looking to revise existing product descriptions or optimize new products on your storefront, our experienced team can create optimized product descriptions that improve your rankings in search results, plus engage and persuade shoppers to purchase your product.
What do our Amazon listing optimization services include?
Our Amazon SEO listing optimization services include:
Dedicated account manager
Product listing audit and analysis report
Keyword research
Product listing optimization
In-stock rate, perfect order percentage, and order defect rate monitoring
Monthly reporting
Ongoing product listing optimizations
And more
Keep reading to learn more!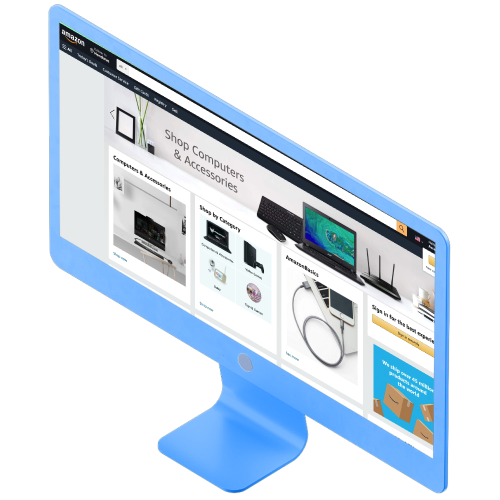 Increase your SMB's
Amazon

sales. See how with a free proposal.
Dedicated Amazon marketing specialist
We feature a team of more than 450+ Amazon SEO consultants, and when you partner with our Amazon SEO company, you receive a hands-on and dedicated specialist for your account. They work with you one-on-one to develop a competitive and data-driven Amazon SEO strategy.
In-depth keyword research
With the machine learning power of ContentGeniusFX — our proprietary and exclusive client software — your specialist finds relevant, high-value keywords for your products. In total, your Amazon SEO expert compiles a list of 25 to 50 keywords per product.
Category and subcategory optimization
For your products to rank in search results on Amazon, as well as on Google, they need to have the proper categorization. That's why your dedicated Amazon SEO specialist researches and optimizes your product for the most relevant and valuable category and sub-category.
Professional copywriting
As a part of our add-on copywriting services, we create original, on-brand, and descriptive product copy that improves your online visibility and offers value to shoppers. If needed, we can also build copy for your Amazon Store, maximizing the experience of users.
Product photography
We maximize the results of your Amazon SEO strategy by optimizing your product photos. If needed, our team can also arrange photography for your products, ensuring you meet Amazon's image standards and provide shoppers with the best view of your product.
Inventory monitoring
For the best results from your Amazon SEO strategy, you must have unparalleled inventory management. That is why our Amazon SEO services include in-stock, perfect order, and order defect rate monitoring. If we notice a decrease in performance or inventory, our team notifies you.
Competitor analysis
Our Amazon optimization services also include an in-depth competitor analysis. Your Amazon SEO specialist evaluates your direct competitors on Amazon each quarter. Their findings help enhance your strategy, leading to better sales and better results from our Amazon ranking services.
User engagement analysis
We understand that Amazon SEO is more than increasing your online visibility. It's also about improving users' engagement with your product listing, whether by viewing your product, adding it to their cart, or purchasing it. That is why our team analyzes the user engagement and attention with your listings.
Monthly reporting
For maximum transparency, we provide monthly reporting as a part of our Amazon ranking services. With this data, your team can see your investment at work — and how it's improving your bottom line.
FBA support
We're more than an Amazon SEO company — we're also a partner to your business. That is why we've included Fulfillment-by-Amazon (FBA) support with our Amazon listing optimization services. With the support of our team, we can help you make the most of FBA.
Ready to learn more about our Amazon SEO services? Contact us online to tell us about your business and products — or call us at 888-601-5359 to speak with one of our award-winning Amazon SEO consultants and receive a free quote!
Partner with
Ecommerce

masters!

Campaigns managed by WebFX have earned over
TRANSACTIONS IN THE LAST 5 YEARS
Read the Case Studies
How do our Amazon optimization services work?
You know what our Amazon optimization services include, but how do they work? Get an inside look at how our Amazon optimization services, as well as dedicated account managers, collaborate and coordinate with your team to create and optimize your product listings to drive sales.
1. Account audit
For the best results, our experienced account managers audit your Amazon account. They look at your product listings, keyword targeting, and rankings to review your Amazon SEO strategy and discover growth opportunities.
Your account manager will also chat with your team to learn about your existing strategy and goals for Amazon.com. With your feedback, they can build a competitive plan tailored to your short- and long-term goals.
If you don't have an Amazon account yet, your account manager will meet with your team, whether via a video call, phone call, or in-person. This meet-up helps your account manager establish a roadmap for creating your store, uploading your products, and more.
2. Competitor analysis
Next, our Amazon optimization services investigate your competitors on Amazon.com.
As a part of your account manager's research, they look at your competition's keyword targeting, product features, unique offers, and product optimization. Using their findings, your account manager can tailor your strategy to compete (and beat) your top competitors in Amazon search results and sales.
3. Strategy development
Following your account manager's account audit and competitor analysis, they can start creating your Amazon SEO strategy. Several factors contribute to your plan, including your goals and number of products.
If you're looking to drive more sales for top-selling products, for example, your account manager will likely focus on product optimization for those goods. Or, if you want to start shipping slow-moving inventory, their strategy may revolve around optimizing those listings.
Either way, your dedicated Amazon SEO expert will present their strategy to your team for review.
4. Keyword research
Next, your dedicated account manager begins researching keywords for your Amazon SEO strategy. They focus on finding relevant and high-value keywords that describe your products and represent a transactional or ready-to-buy search intent.
As a part of our Amazon optimization services, we also try to find low-competition keywords. With less competition, your company's products can earn a higher spot in Amazon search results and avoid fierce competition from larger brands, like Amazon.
5. Listing creation
If you're looking to start or expand your Amazon Store, our Amazon SEO listing optimization services include adding products. Your dedicated account manager will create and optimize your listing according to Amazon best practices, plus coordinate with a trusted third-party vendor (if needed) for product photos.
6. Product optimization
Finally, your dedicated account manager optimizes your product listings, which includes:
Incorporating relevant keywords into product titles and descriptions
Ensuring product images match Amazon.com guidelines and recommendations
Choosing relevant categories and subcategories for products
And more
With these optimizations, your company can start improving the visibility of your products in Amazon search results, as well as their usefulness to shoppers. These changes can lead to more sales and revenue for your business.
7. Logistics monitoring
Amazon's algorithm relies on more than keywords — it also uses factors specific to product inventory and order fulfillment. That's why our Amazon SEO services include in-stock rate monitoring, FBA support, order defect rate monitoring, and perfect order percentage monitoring.
With this service feature, your dedicated account manager can help and support your team as you fulfill orders, restock products, and more. For the best results with Amazon SEO, companies must optimize their listings and logistics.
8. Monthly reporting
As a part of your Amazon optimization services, your dedicated account manager will create a monthly report for your team. This report makes it easy for your business (and company leaders) to check in and follow your Amazon SEO progress.
Your account manager will review your report with you one-on-one. If you have questions, it's the perfect time to ask your account manager. You can also ask for report changes or improvements to make it even more valuable for you and your team.
9. Ongoing optimizations
For the best results, ongoing Amazon optimization is a must.
That's why our Amazon ranking services focus on continuous product optimization, whether by finding new keywords, tweaking product features, or adding brand-new products to your store. With ongoing optimization, your business can continue to earn new customers and more sales.
7 benefits of working with WebFX for Amazon SEO services
Partnering with WebFX for Amazon SEO services offers several advantages, including:
Getting initial and ongoing product listing optimizations to drive continuous sales
Finding and targeting keywords that offer the best return when it comes to driving sales
Getting optimized copy for your product listing, written by a seasoned copywriter
Receiving regular reports to show the impact and return of Amazon optimization services
Getting routine insight into competitor keyword and pricing strategies
Working with a dedicated Amazon SEO expert to build and manage your Amazon SEO strategy
Obtaining real, measurable results from Amazon SEO, like higher rankings and sales
You can learn more about why businesses choose WebFX for Amazon listing optimization services by exploring our client testimonials!
Why choose WebFX for Amazon SEO services?
With more than $3 billion generated in client revenue, we've been the trusted choice of ecommerce companies for decades. Learn more about why businesses choose WebFX for Amazon SEO services:
Data-driven strategies
WebFX stands apart from other Amazon SEO service providers by featuring a data-driven approach to Amazon SEO. With decades of proprietary data and the best software, like ContentGenuisFX, we can develop data-backed strategies that increase your product orders and revenue.
Transparent prices
We believe in transparency, which is why our prices are available online all day, every day. Whether you want to view them now or later, you can — and without the hassle of fielding information requests. Even if you request a custom quote for our Amazon optimization services, our team explains every feature.
Personalized approach
A one-size-fits-all approach isn't the WebFX standard. We believe in tailored approaches for all our services. Whether you're looking into our Amazon optimization services, Amazon Store services, or Amazon PPC services, you can trust your dedicated account manager to tailor it to your business.
Unmatched client satisfaction
With more than 785 testimonials and dozens of awards, we mean it when we say your satisfaction matters to us — and that shows in our client retention rate 91% percent. With WebFX, you have a lasting partner for your Amazon SEO strategy.
Measurable results
At WebFX, our commitment to transparency extends to not only our prices but our results. Whether you're browsing our portfolio or client metrics, you can see the numbers we drive for our clients, whether it's conversions or organic search traffic.
Decades of experience
Our passion for digital marketing started more than two decades ago. Since then, we've become a leader in the market due to our tenacity, drive, and data. With WebFX on your side — as well as some of the industry's best digital strategists — you'll succeed in the Amazon marketplace.
Confident that WebFX is the best Amazon SEO agency for your business? Contact us online today to get started on your strategy or give us a ring at 888-601-5359 to chat with an experienced strategist about our Amazon SEO optimization services.
7 reasons companies invest in Amazon SEO services
With Amazon dominating the online marketplace, it makes sense for businesses to use the platform. Why partner with an Amazon SEO company, though? Because WebFX can optimize your products to generate more revenue, leads, and market dominance.
For a better perspective, here are the seven biggest benefits of our Amazon SEO services:
1. Improve your Amazon ranking
If you're new to the Amazon marketplace, you'll probably notice it's a challenge to earn a high sales ranking — which is your product's ranking in Amazon search results. Like search results on Google, as well as Bing and Yahoo, a high ranking often correlates to more clicks and conversions.
For example, search results in the first position on Google earn 33 percent of all search traffic.
Our team applies search engine optimization (SEO) strategies to improve your Amazon ranking. That means we're researching high-volume, low-competition search queries on Amazon and incorporating them into your product page to increase its ranking.
We prioritize the user experience, though. That's why we create product content that emphasizes readability and quality, as well as your brand voice. It's natural and connects with shoppers, encouraging them to choose your company and product.
With pay-per-click (PPC) services on Amazon, we can also help your product gain immediate exposure to complement your SEO strategy. Like traditional PPC ads, you only pay when a shopper clicks on your listing.
2. Earn your product's Buy Box
A priority for every Amazon seller is the Buy Box. The Buy Box is a feature on every Amazon product listing. When a user clicks, "Add to Cart," Amazon automatically adds the product that occupies the Buy Box.
If your product doesn't have the Buy Box, you depend on shoppers to take the extra step of comparing sellers through the "Other Sellers on Amazon" option. The risk of that, however, is that consumers will compare your product's price and shipping costs against every other listing.
They'll also see your Seller information, which lets them compare your overall rating to everyone else.
At WebFX, we help your company earn that Buy Box with our Amazon listing optimization services.
That helps you generate more sales and profits, plus expand your consumer base. Our team will also make sure your Amazon Seller Business account is eligible for the Buy Box, which depends on several factors, including your account type.
3. Increase your revenue
With more consumers choosing Amazon for their shopping, it's become a hub for spending. Studies show that Amazon Prime members spend more than $1,000 per year at the ecommerce website — shoppers without a membership spend around $600 each year.

By starting an Amazon Business Seller account, you're providing your company the chance to earn a portion of that spending. For perspective, Amazon boasts more than 100 million Amazon Prime members.
We're passionate about driving results at WebFX.
That is why we use performance-driven strategies to improve your revenue on Amazon. By researching your audience, industry, company, and products, we create a customized Amazon SEO strategy for achieving your profit benchmarks for this quarter and next.
4. Optimize your team's productivity
No matter how many products you sell on Amazon, it requires time and dedication to manage your inventory, orders, and listings. That cuts into your team's time, which may lead to setbacks in other areas.
At WebFX, we're more than a partner — we're an extension of your team. That means we dedicate ourselves to your success, which is why we'll take the extra steps to maximize your Amazon revenue, instead of settling for "good enough."
That gives you peace of mind. Plus, it gives your team a more manageable workload, which can boost productivity and generate even better results for your company, helping you grow and become one of the best places to work.
5. Maximize your brand awareness
In most instances, you want to generate not only sales for your business but also brand awareness. Amazon listing optimization services let you expose shoppers to your products, as well as to your brand. That can help your company become somewhat independent of Amazon.
Instead of earning 90 percent of your sales from Amazon, for instance, you may build enough brand awareness that consumers start purchasing items from your website. That can help you balance out your revenue channels.
With more than 25 years of experience in building brand awareness, such as through social media marketing, email marketing, web design, and several other digital marketing services, we understand the value of brand awareness — and how to improve it.
6. Grow your website traffic
Diversifying your revenue channels is an asset, which is why our team helps you succeed on Amazon and elsewhere with our digital marketing services. By helping your company become a juggernaut on Amazon, as well as building your brand awareness, we help you earn valuable website traffic.

That lets you generate revenue — and maybe even leads — from your website.
7. Become an industry leader
With an increased sales ranking on Amazon, as well as occupancy of your products' Buy Boxes, you can quickly become a recognized name among consumers — especially if you're working with respected businesses in your industry.
As an industry leader, your company has an immense opportunity to grow. Our team can help you too, providing additional digital marketing services that let your business go beyond Amazon and to other channels.
If you browse our portfolio, as well as testimonials, you can see the change we bring to companies. Our partnership with Ceramcor, an ecommerce store for ceramic kitchenware, for instance, led to annual revenues increasing by 85 percent due to our SEO and web design services.
FAQs about Amazon SEO services
Looking to learn more about Amazon SEO services for your business? Check out our FAQ:
What are Amazon SEO services?
Amazon SEO services are services that focus on improving your product listings' rankings in organic search results on Amazon. Typically, Amazon SEO services will include keyword research, product title optimization, inventory monitoring, and more.
How much do Amazon SEO services?
Prices for Amazon SEO services vary. On average, companies will pay $450 to $1800 per month or $99 to $2000 per product for Amazon SEO. For the most accurate prices, request a custom quote from an Amazon SEO agency, like WebFX.
Earn more revenue with Amazon SEO services from WebFX
Ready to increase your revenue? Chat with our team by calling us at 888-601-5359 to learn more about our Amazon SEO services — you can also contact us online to tell us about your business and goals for the upcoming year!