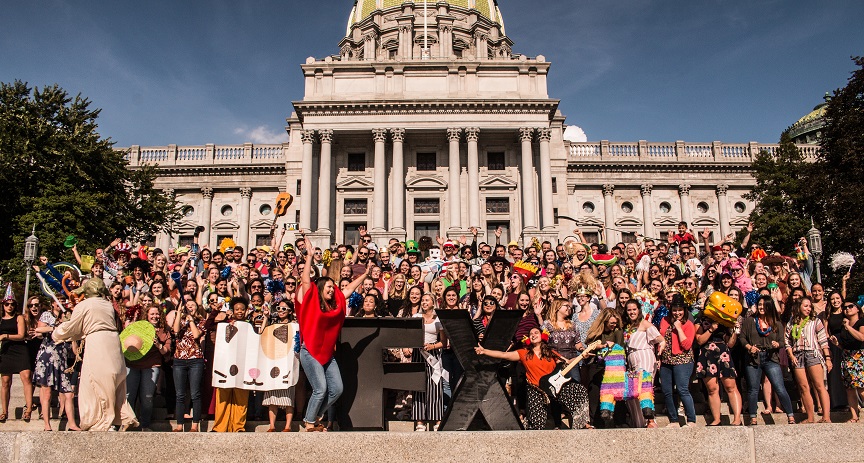 Amazon PPC Management Services: Lower Your ACoS
Advertise on Amazon with Amazon PPC management services from WebFX. With our custom and data-driven strategies, we will help your business lower its Advertising Cost of Sale (ACoS) while increasing its sales and market share.
Explore Amazon PPC Service Plans
Keyword Research

Dedicated Amazon Marketing Specialist

Online Project Management System
Product Advertising Suggestions

Campaign Strategy Development

Campaign Setup
Bid Adjustments

Promotion and Coupon Management

Subscribe and Save Recommendations
Increase your ecommerce sales with Amazon Ad Management Services from WebFX
Start generating more revenue from Amazon ads, like Sponsored Products, with our Amazon PPC services, including regular reporting, a dedicated account manager, and proactive bid management, by requesting a proposal today!
Competing on Amazon requires more than an aggressive search engine optimization (SEO) strategy — it also demands a competitive pay-per-click (PPC) campaign.
Almost 10 percent of clicks on Amazon now go to paid ads, demonstrating that you aren't earning as much as possible on the world's biggest ecommerce platform if you aren't advertising on it.
WebFX can help maximize your earnings.
With more than 650 ad campaigns managed, plus more than 25 years of experience, WebFX is a top choice for companies selling (and looking to grow) on Amazon.
If you're ready to start increasing your sales on Amazon, contact us online or call 888-601-5359 to speak with one of our award-winning strategists about our Amazon ad management services!
"Being new to digital advertising, searched for a company that not only could handle my project but do it at a fair price. I found both of those needs were covered with WebFX. I have been very happy with not only the success of my campaign, but also the friendly and knowledgeable people there."
Managing Partner
SAFETY COMPLIANCE CONSULTANT
Amazon PPC Management Services
Learn what you get with our Amazon PPC management services, plus how much our services cost using the pricing tables below.
What do our Amazon PPC services include?
Our Amazon PPC services focus on Amazon's primary advertising options.
Sponsored Brands
Your dedicated Amazon PPC expert develops and creates Sponsored Brands — each ad promotes up to three products — that reach your target shopper as they search for relevant items on Amazon. Sponsored Brands convert at three times the rate of Google Shopping Ads.
Sponsored Product Ads
Your dedicated Amazon PPC expert develops, creates, and manages your Sponsored Product Ads — each ad promotes one product — that reach your target shopper as they search for relevant items on Amazon. Sponsored Product Ads offer the best sales-per-click, and we maximize those profits for you.
Product Display Ads
Your dedicated Amazon PPC expert develops, creates, and manages your Product Display Ads — each ad promotes one product — that reach your target shopper as they search for relevant products on Amazon, view merchandising emails from Amazon, and browse similar product listings.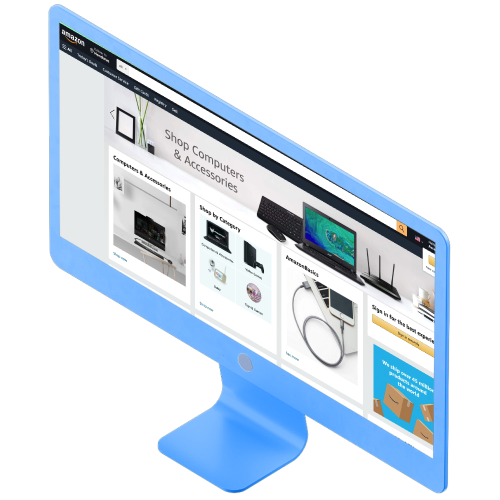 Increase your SMB's
Amazon

sales. See how with a free proposal.
What else do our Amazon PPC services include?
We also provide you with additional services that maximize your company's success on Amazon.
Dedicated Amazon marketing specialist
With more than 1.6 million hours of expertise, our Amazon PPC experts offer unmatched experience when it comes to Amazon PPC. Their knowledge, combined with ContentGeniusFX, produces PPC campaigns that push your Amazon sales past your expectations.
In-depth keyword research
With the industry's leading tools and award-winning expertise, we research high-value keywords for each of your products. We look at several factors when choosing keywords, including their search volume, competition, and cost-per-click (CPC). Your dedicated specialist also uses negative keywords in your campaign to reduce your ACoS.
Automatic and manual campaign management
Our Amazon PPC services include automatic and manual campaign management to deliver the best results. By focusing on each area, our team can optimize your advertising campaigns and bids, which maximizes your return on investment (ROI) and decreases your ACoS.
Competitive analysis
We investigate your competitors every quarter, identifying new ways to advertise your products and enhance your existing PPC campaign by analyzing the product listings and product advertisements of your competition. Our proactive approach enhances our keyword research, plus allows our team to identify the best opportunities for your ad copy — resulting in more sales for you, and even fewer for your competitors.
Subscribe and Save recommendations
We increase your sales further by offering product recommendations for Amazon Subscribe and Save. With recurring orders from Amazon Subscribe and Save, you establish a source of recurring revenue that you can reinvest in your PPC campaign.
Lightning Deals, coupon, and promotion management
Our Amazon PPC services also include management for Lightning Deals, plus promotions and coupons. With our team managing your promotions, your business can capitalize on high-traffic shopping days — Amazon continues to claim more than 50 percent of all online Black Friday sales — and maximize every opportunity for earning new sales.
If you're ready to start lowering your ACoS and collaborating with your Amazon PPC consultant, contact us online or give us a ring at 888-601-5359 to chat with our award-winning specialists about building a custom and data-driven campaign for your business.
Unmatched Services
Net Promoter Score is the leading metric for customer satisfaction.
WebFX clients score 394% higher than the industry average.

83
How does our Amazon PPC agency help your business?
With more than $3 billion in revenue generated for our clients, WebFX is the choice for companies that want to decrease their ACoS, plus increase their sales, revenue, and market dominance. Choose WebFX as your Amazon PPC agency, and your business gains the following marketplace advantages:
More than 450 PPC experts
Unlike other Amazon advertising companies, we feature a team of more than 450 PPC experts. With their expertise and passion for the platform, they can develop campaigns that your competition can't touch. Plus, they work with you one-on-one, so you're always working with a familiar face.
Custom PPC strategies
In digital marketing and advertising, "cookie-cutter" strategies don't cut it. Our Amazon PPC specialists customize your Amazon PPC campaign to your company, products, and goals. We also take the time to learn your business, which maximizes your campaign's results even further.
Unmatched client retention
We're passionate about helping your business succeed — and it shows too. We have a client retention rate of 91%, emphasizing that our Amazon PPC services deliver.
Transparent prices and results
Since our start more than 25 years ago, we've valued transparency. That is why we publish all our prices and deliverables online, providing your company with the information you need to make a decision.
More than 25 years of experience
With more than 25 years of experience in the ecommerce market, WebFX offers a unique advantage. Our expertise, as well as familiarity with Amazon, ensures you receive a competitive Amazon advertising strategy campaign that drives product orders and satisfies shoppers.
Why use Amazon PPC management services?

If you're debating about investing in Amazon PPC management services, don't. Companies are spending almost 170 percent more on Amazon's advertising options, emphasizing that success on Amazon requires a two-pronged approach — SEO and PPC.
Why else should you use Amazon PPC services?
1. Decrease your ACOS
As a seller on Amazon, you understand how critical a low ACoS is to the success of your advertising campaign — specifically your Amazon Sponsored Products ads. While you may sell a lot of products, if your ACoS is too high, it'll wipe out your profits.
That's why companies partner with our Amazon advertising agency.
With our expertise, as well as ContentGeniusFX, our team can discover and research high-value keywords with a low CPC. We can also find negative keywords to incorporate into your Amazon Sponsored Products ads.
For your business, that results in more sales and a lower ACoS.
2. Increase your product orders
Amazon drives more than 40 percent of all online sales — which is why a presence on Amazon is critical for ecommerce businesses. When you invest some of your marketing budget into advertising on Amazon, however, you can take a bigger chunk of those sales.

You can also use PPC to increase orders for the following kinds of products:
Our Amazon PPC specialists will collaborate with you too, helping you select the best products to promote. Depending on your business strategy, you may even advertise your entire product line to maximize your ROI.
3. Improve your brand awareness
With our Amazon PPC services, you can promote your business and its products across Amazon. From appearing in relevant search results to relevant product listings, shoppers will discover your brand and products.
Even if your business doesn't offer products on Amazon, you can benefit from this feature. Big-name companies like Verizon, Geico, and AT&T, for example, advertise on Amazon to promote their services alongside relevant products.
Why? Amazon is the new home for shoppers.
By increasing your brand awareness and sales through an ongoing Amazon PPC campaign, you're earning an immediate and long-term return on your investment. Even better, improved brand awareness can contribute to your digital marketing efforts outside of Amazon, like social media.
4. Grow your market dominance
Our Amazon PPC management services aim to build your market dominance. With increased sales, brand awareness, and online visibility, your business — and products — become the go-to choice for shoppers. That can lead to immense changes for your company.
A few examples of the positive impact our Amazon PPC agency can make on your company include:
A new product for your business
A series of new positions at your company
A new location for manufacturing, processing, or developing your products
With this kind of growth, your business can become a force in its industry.
5. Enhance your Amazon SEO strategy
For the best results on Amazon, you need an SEO and PPC strategy. Why? Without SEO, your products become vulnerable to losing their Buy Boxes — and if your product isn't winning its Buy Box, you can't advertise it on Amazon.
That's why we often recommend our Amazon PPC and Amazon SEO services. This approach enhances your digital marketing strategy on Amazon and makes your company more competitive against the competition, which can improve your ROI.
6. Reach your target shopper
More than 50 percent of shoppers start their product search on Amazon. For companies not on Amazon, they're missing out on half of the marketplace — that's a massive loss, as well as an immense opportunity.

By adopting an integrated approach to Amazon, such as with Amazon SEO and Amazon PPC, your company can reach its target shopper. That connection translates to sales on your Amazon Store, which improves not only your bottom line but also your market competitiveness.
FAQs about Amazon PPC services
Looking to learn more about Amazon PPC services? Browse our FAQ:
What are Amazon PPC services?
Amazon PPC services is professional Amazon PPC management. Typically, Amazon PPC services include auditing, managing, optimizing, and monitoring your Amazon ad campaigns to increase the visibility and sales of your promoted products.
How much do Amazon PPC services cost?
Prices for Amazon PPC services depend on several factors, including your product's market and your Amazon PPC agency. On average, ecommerce companies invest $400 to $5000 per month or 10 to 20% of their monthly ad spend on PPC.
Decrease your ACoS with the industry's leading Amazon PPC services
WebFX is a world leader for marketing and advertising on Amazon. With our award-winning services, industry-leading tech, and hands-on approach, we not only increase your sales on Amazon but also build your market share on the world's biggest ecommerce platform.
Ready to decrease your ACoS, increase your sales, and partner with the best team for advertising on Amazon? Contact us online or give us a ring at 888-601-5359 to learn more about our Amazon PPC services, as well as receive a free custom quote!